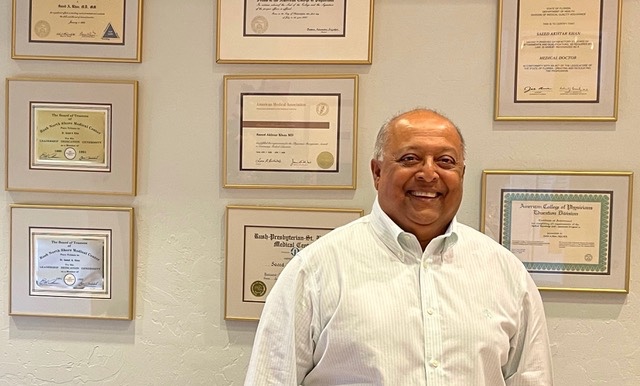 Dr. Saeed Khan has been treating internal medicine patients with his team of dedicated nurse practitioners and physician assistants for almost 40 years now. For the majority of his career, Dr. Saeed treated his patients in person at his office in Okeechobee, Florida. Recently, due to Covid-19, there have been some changes in the traditional way that Dr. Khan treats patients. Due to the contagious and fatal nature of the virus, Dr. Khan has turned to telemedicine for many of his patients. Telemedicine is defined as, the remote diagnosis and treatment of patients by means of telecommunications technology. While telemedicine has been around for a while, it has become increasingly popular during the global pandemic. Dr. Khan and his team are very diligent about screening their patients for Covid-19 before treating them in the office. It is extremely important to stop the spread of the virus and limit unnecessary close contact as much as possible. Dr. Khan treats adult patients of all ages, many of which are elderly and have been prone to negative long-lasting and fatal effects from the virus.
Outside of his internal practice, Dr. Saeed Khan also functions as a faculty member of Florida State University's College of Medicine. He has now completed 10 years of service, working with 3rd and 4th-year medical students. This program allows students to gain experience with Dr. Khan and his internal medicine team. FSU has been extremely grateful for Dr. Khan's work and recently recognized him with an award for all of his achievements at the school. Before moving to Florida, Dr. Khan was also a successful professor in Chicago at Rush Medical College. Dr. Khan not only has a passion for treating and working with patients but also for educating the future medical community!
Dr. Khan's hard work and proven success is an inspiration to everyone. With almost 40 years of experience in Okeechobee and Jupiter Florida, Dr. Khan has changed the lives of patients and future students of all ages. We can't wait to see what Dr. Khan does next in his career!